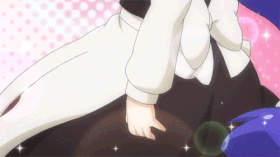 This is the uniform of the workers of the Hatch Potch Cafe, Miiko Inui's bakery and restraunt. It is a traditional waiter or waitresses' uniform, with a large white apron that has a brown paw. The female uniforms seem to have a black collar or choker with a red gem across the high neck of the undershirt. It has been seen being worn by Miiko herself, Tsumiki Miniwa, Sakaki Inui, Mayoi Katase, and Io Otonashi.
Ad blocker interference detected!
Wikia is a free-to-use site that makes money from advertising. We have a modified experience for viewers using ad blockers

Wikia is not accessible if you've made further modifications. Remove the custom ad blocker rule(s) and the page will load as expected.